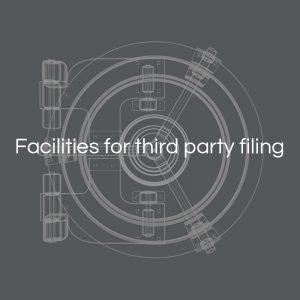 Facilities for third party filing
We offer facilities for the third party filing of trade marks. This helps clients avoid the surveillance of competitors, or the possibility of trade mark hijacking. Clients can arrange with their IP advisors to file marks or domain names using one of our registered UK companies. We will hold your marks or domains in safety after the IP asset is registered and until you need them, you arrange the rest of your IP strategy. When you are ready to have them assigned to you, they can be transferred over.
Such use of these facilities—where there is no 'intent to use' requirement—is a powerful tool in an IP strategy. You can prepare for the launch of your new product or service and not worry about your new brand being leaked or held to ransom. You or your attorney file the relevant forms and monitor progress; we provide the company through which you can do it, and the facility to hold it until you need it.
We offer a single-fixed pricing structure for one or a series of marks filed consecutively; please get in touch and we can tell you more about this service.
You can also use the same cover facilities of our registered UK companies to file oppositions to applications, or revocations of existing marks, if needed. To help clients build their IP portfolio, we also provide a discreet and anonymous IP acquisition service to secure IP assets already held by others. Your trade mark attorney will be able to advise accordingly.
We aim to work closely with our clients and provide a service that meets their needs.
Add eccora to your IP strategy – contact us to discuss your specific needs.