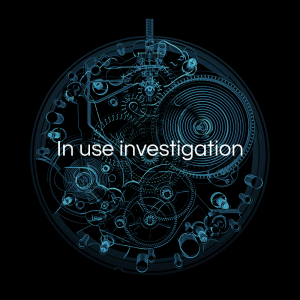 In use investigation
An in use investigation is a powerful tool when done by eccora. From single territory trade mark in use investigations through to global clearance projects, we determine the status of registered or unregistered trade marks. We aim to give you the detailed information you need, whether you wish to apply to have the trade mark revoked, invalidated or oppose its use, or decide whether to apply to register your own mark.
We offer 2 levels of in use investigation. Our R-check(TM) service provides a Rapid Check to determine quickly whether a particular mark is in use or not. It is ideal when there are a number of marks to clear within a short timescale and cost-effective manner. Our full in use investigation is an extensive research and investigation report with owner and independent third-party source contact to confirm or refute use of the mark.
(1) R–check service
Our R-check service quickly determines if a mark is or is not in use: this is ideal when there are several marks to clear quickly and cost-effectively. R-check works especially well when it comes to international trade mark clearance projects.
(2) Full in use investigation
Extensive research and investigation, including contact with owners and independent third parties, to confirm or refute use of the mark.
After you've got the results?
If a registered trade mark is not yet vulnerable to revocation for non-use, then eccora can seek to obtain the mark discreetly and anonymously through out IP acquisition service.
Pricing & turnaround
Generally we aim to provide our trade mark in use investigations on a fixed-fee basis and report within a 5-working day timescale. However, we offer a tailored service and understand the need for both flexibility and urgency, when required.
We aim to work closely with our clients and provide a service that meets their needs.
Add eccora to your IP strategy – contact us to discuss your specific needs.