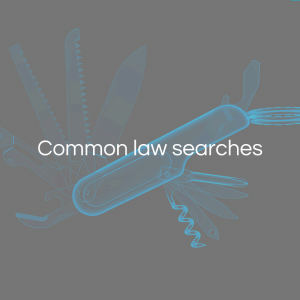 Common law searches
It is a challenge to find and secure new and original trade marks. More often than not an identical or similar mark already exists. The key in the decision process is having reliable and substantiated information. Our common law searches identify unregistered trade mark use and potential prior-rights in the market of interest. This is a useful tool when considering filing a registration or when opposing the validity of existing registered trade marks.
We undertake a comprehensive analysis of research resources beyond standard Internet searches – news media, social networking sites, B2B resources and advertising databases. This analysis is supplemented by research from a comprehensive range of industry specific resources such as retailers, product databases and publications. The research element provides an initial assessment of whether there is use of marks identical or similar to those of interest to our client.
Our common law searchers analyse the information obtained from our research and use this to compile a comprehensive report with a clear conclusion. This means you can make informed decisions rather than guesses. Our reports are focused on the most important uses, rather than reporting on an excessive number of tangential hits. They are, as a result, readable, understandable and useful. We compile and dispatch all our reports electronically, together with all supporting information.
Pricing & turnaround
We offer a range of turnaround times for our common law searches from a standard 5 working days to 24 hours, or less, depending on the level of urgency. Prices are typically on a fixed-fee basis including online charges; some of our clients combine this service with our in-use investigation to ensure a full market survey.
We aim to work closely with our clients and provide a service that meets their needs.
Add eccora to your IP strategy – contact us to discuss your specific needs.